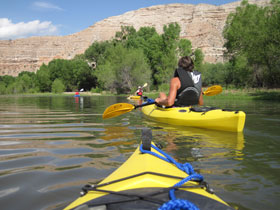 The headwaters of the Verde River emerge 100 miles north of Phoenix, Arizona and begin an incredible journey to the east and south through wilderness, basalt canyons, and pristine riparian forest, gathering flow along its 200-mile long path to meet the Salt River.
The river runs past hundreds of ancient archeological sites, many small and inconspicuous, and some as large as Tuzigoot National Monument. Each site is significant to the culture and history of Arizona.
The Sinagua and Hohokam tribes made the Verde River Valley their home for the same reasons we make the valley our home today. Like a 200-mile long oasis, the Verde brings life to an otherwise austere desert. More than 200 species of birds, including the Common Black-hawk, Yellow-Billed Cuckoo, and Bell's Vireo use this unlikely oasis as a migratory path, a wintering ground, or a breeding area.
The riverside gallery, in some areas only a few feet wide, and in others hundreds of yards across, is the rarest of all North American forest types – the Freemont Cottonwood-Goodding Willow complex. Mountain Lion, River Otter, Beaver, and North America's smallest deer, the Coues White-tail, call the river home, as do thousands of people who live along its banks in central Arizona's Verde Valley. These people are the river's best friends, and they also bring its most pressing challenges.
In an effort to preserve the Verde River and connect our communities to it through recreation, we have teamed up with American Rivers and a number of local partners to develop the Verde River Blue Trail. Our goal is to improve recreational opportunities and help communities like Clarkdale recognize the Verde as a vital resource that must be protected.