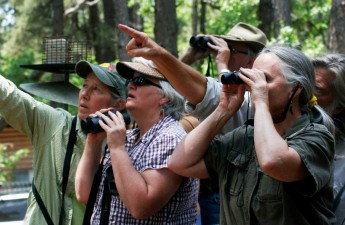 This article was written by Susan Culp, a contractor for American Rivers in the Verde Valley. This article originally appeared on Audubon Arizona's online Blog. Read the original article here. 
---
The Verde River is one of our last remaining perennial and free-flowing rivers. With a healthy riparian corridor along its length, it is well-known for its importance to a great diversity of resident and migratory birds and other wildlife.  The species richness of the region has been recognized by two IBA's (Important Bird Areas) already – the Lower Oak Creek IBA near Page Springs and the Tuzigoot IBA that runs along the Verde River through Clarkdale and Cottonwood.  However, Camp Verde, with exceptional riparian habitat supporting countless species, remains an under-birded area.
The value of wildlife and the importance of protecting the river and riparian habitat on which it depends was one of the most resounding messages heard from residents during the Town of Camp Verde's efforts to develop a comprehensive Verde River Recreation Master Plan.  The Plan, adopted unanimously by the Town Council in February of 2016, showed wildlife viewing and appreciation as among the area's most popular recreation activities.  An IBA designation along the Verde River in Camp Verde would fit well with community values, add to the area's bird and wildlife watching opportunities, and support low-impact but economically-valuable recreation and tourism. According to research conducted by Tucson Audubon Society in 2013, watchable wildlife recreation activities contributed over $40 million toward retail sales, $22 million in salary and wages, and supported almost 600 jobs in Yavapai County alone.
In September, Audubon Arizona and Tucson Audubon Society convened a workshop for local stakeholders about the IBA designation process. The event was attended by local conservation groups, public land managers, private landowners, and volunteer birders.  The reception was positive and to date over 20 volunteer birders in the region have offered to assist by conducting field surveys to support the IBA application.
The surveys for the IBA application will begin in January 2017, and will be conducted seasonally to coincide with the arrival of spring migrants, summer nesting behavior, and fall migrations.  The Camp Verde IBA effort is unique in Arizona – where a community has taken the initiative directly to pursue watchable wildlife opportunities; where residents have expressed keen interest in protecting important riparian wildlife habitat in their neighborhoods; and where local groups, landowners, land managers, and citizens have eagerly volunteered to support the project.  American Rivers is working closely with Friends of Verde River Greenway and the Town of Camp Verde to craft the IBA application for submission to Audubon and BirdLife International and the project is also endorsed by the Northern Arizona Audubon Society.
This effort represents a tremendous opportunity for the Town of Camp Verde to support sustainable recreation and economic development while leaving a light footprint on the natural world and reflecting the community's values.
If you are interested in participating in the survey process, please contact either Susan Culp at sculp@nextwestconsulting.com, who is organizing the IBA application on behalf of American Rivers.  There are opportunities for all wildlife lovers to get involved with this exciting project – the more the merrier!