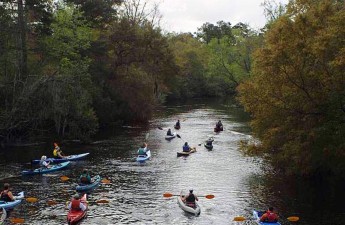 This is a guest blog from Howard Bridgman. American Rivers and a diverse group of local partners are developing a Blue Trail for the Ashley River in South Carolina. Howard Bridgman, former Summerville Town Council member and founding member of the Ashley Scenic River Advisory Council, writes about our work to connect local communities to the river through recreation and finding ways to ensure its long-term health.
---
South Carolina's Ashley River is a historic and recreational treasure. It flows through Summerville and Charleston, one of the fastest growing areas of the Southeast, then into the Charleston Harbor and out to the Atlantic Ocean. American Rivers is working with communities along the Ashley River to develop a Blue Trail. Our goal is to raise awareness of the river's great values to the local community, promote its outstanding recreational values and advance efforts to preserve and protect it.
A Blue Trail is a river adopted by a local community that is dedicated to improving family-friendly recreation such as fishing, boating, and wildlife-watching, and conserving riverside land. Just as hiking trails are designed to help people explore the land, Blue Trails help people discover their rivers. They help communities improve recreation and tourism, benefit local businesses and the economy, and protect river health and wildlife. They are voluntary, cooperative, locally led efforts that improve community quality of life.
My first day as the Ashley River Blue Trail Coordinator confirmed its strong community connections. I met with the Berkeley Charleston Dorchester Council of Governments which is excited about the Ashley River Blue Trail and hopes it will serve as a pilot for their three-county initiative to connect people to the rivers and protect them. I look forward to acting as American Rivers' ambassador and promoting the Ashley River Blue Trail and its many benefits to the communities along it. The first annual Ashley River Fest is scheduled for May 3rd. I look forward to working with groups and community members that plan to participate and help spread the word about our community's great resource. I will report the results in a future blog.