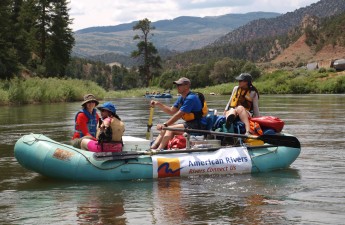 The North Face Explore Fund provides $500,000 annually in grants to nonprofit organizations working in powerful and creative ways to encourage participants to experience outdoor activities and develop an enduring appreciation of the outdoors. Apply today!
The North Face EXPLORE FUND provides grants to U.S. based nonprofit organizations that provide their participants with meaningful outdoor experiences. Specifically, experiences that instill an enduring appreciation of the outdoors, promote positive personal or societal change, and/or demonstrate environmental stewardship principles and practices. To be considered for an Explore Fund grant, the applying organization must be a 501(c)(3) nonprofit or in a formal relationship with a qualified fiscal sponsor.
The Explore Fund has historically funded programs that take people on outdoor adventures with the goal of using time outside to promote positive personal and societal growth, love of nature, and the development of outdoor skills. As environmental stewardship is core to our mission and something we have supported for more than 50 years, we see the Explore Fund as an opportunity to support the work of the nonprofits whose mission falls into this category.
With this in mind, we are dividing the grant funding between two categories this year:
Outdoor Experiences and Leadership
Environmental Stewardship
Organizations should indicate in their application which category their program falls into. Across both categories, programs should show how they are
Increasing diversity and access to underrepresented populations in the outdoors.
Developing an appreciation for the outdoors through multiple engagements versus one-day events.
Applicants that demonstrate how they are working to fulfill the above goals are preferred.
The 2017 Explore Fund application is open until APRIL 5 – Apply today!
Photo Credit: Fay Augustyn, Colorado River