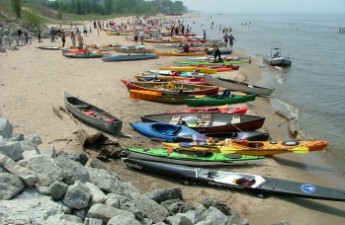 Across the country, communities are creating and improving the infrastructure for people to connect with rivers through recreation. River and riverside trails, picnic areas, boat launches and local businesses along the river are bringing locals and visitors to river focused communities. River recreation and paddlesports are kickstarting local economies, getting kids and families outdoors, and generating a new appreciation for communities from east to west.
Natalie Warren of Wild River Academy will lead a 30 minute webinar where she will discuss the benefits of eco-tourism and ways to improve marketing and amenities in your community. This webinar will touch on the economic benefits of water trails and the importance of paddler amenities in increasing paddlesports tourism in your community. However, providing amenities isn't enough to put you on the map. Communities need to market those opportunities to reach a broader audience and attract more visitors to the area.
Tune in and learn:
– How river recreation and paddlesports help local communities
– The benefits of eco-tourism and strategies to market and attract new visitors
– Case study examples from around the country
When: Tuesday, April 26th at 1 pm ET
Presenter: Natalie Warren, Wild River Academy
Who should attend: Nonprofits, local governments, and other stakeholders interested in marketing river recreation in your community
Stay Connected! Sign up for our E-Newsletter at www.BlueTrailsGuide.org!
Photo Credit: NWIPA