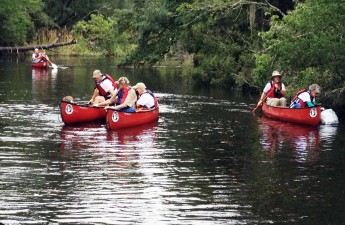 This is a guest blog from Howard Bridgman. American Rivers and a diverse group of local partners are developing a Blue Trail for the Ashley River in South Carolina. Guest blogger Howard Bridgman, former Summerville Town Council member and founding member of the Ashley Scenic River Advisory Council, writes about our work to connect local communities to the river through recreation and finding ways to ensure its long-term health.

---
This year's Beach Sweep/River Sweep on the Ashley River was a great success with 249 participants collecting 1.46 tons of trash. The event, in its 12th year, is coordinated Keep Dorchester County Beautiful. This year, in collaboration with American Rivers, Summerville Saltwater Anglers, Dorchester and Charleston conservation groups the cleanup reached a larger more diverse group.
We had a great time. The day was overcast and relatively cool. Our group of paddlers met at Jessen's landing and shuttled up to Bacon's Bridge. Former County Councilman Richard Rosebrock helped clean the riverbank at his namesake park and then paddled downstream to Jessen's Landing. Jack Keeter of ASRAC accompanied by his son collected the trash by johnboat.
Summerville Town Councilman Bob Jackson and his granddaughter were on the river to act as a barge to collect trash from the canoes and kayaks. His boat enabled us to work together and remove several hundred feet of ¾ inch black plastic water pipe that was tangled in the riverside vegetation. The Salt Water Anglers focused on the river downstream from Jessen's where they could effectively cover a greater more of the river.
The Ashley River is a historic and recreational treasure. It flows through one of the fastest growing areas of the Southeastern U.S. Thanks to Keep Dorchester County Beautiful and the collaboration of concerned citizens we can clean the river and educate the public to the many benefits to be enjoyed from the rivers responsible use.