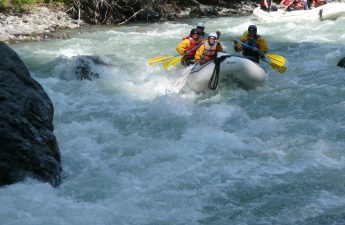 Did you miss our August webinar? Tune in today to learn about the collaborative efforts to create the Upper Nooksack River Recreation Plan. Stemming from efforts to protect the Upper Nooksack through Wild & Scenic River designation, the plan provides recommendations for non-motorized recreation and protection of its natural and cultural values. Watch the webinar to learn how to initiate multi-stakeholder, cross-jurisdictional collaborative planning; the basics of Wild & Scenic River designation and perceptions about their management; and methods of fostering community engagement in recreation management.
Flowing west from the peaks of the North Cascades to the salty waters of the Salish Sea, the Nooksack is one of the few remaining river systems in Washington that supports populations of all five species of Pacific salmon, as well as steelhead, bull trout, and cutthroat trout. Bald eagles, black bears, cougars, and elk are among the native wildlife inhabitants. It is also a world-class, outdoor recreation haven, providing local residents and area visitors with fishing opportunities, trails, riverside campsites, whitewater boating, and winter sports.
Tune in and learn:
– Learn how to initiate and coordinate a multi-stakeholder, cross-jurisdictional collaborative planning process
– Understand the basics of Wild and Scenic Rivers and perceptions about Wild & Scenic River management
– Hear about the importance of community engagement with planning and resource management
Join us next month on September 20th to learn more about how to use GIS mapping to prioritize conservation and recreation in your community!
Photo Credit: Wendy McDermott, Nooksack River, WA