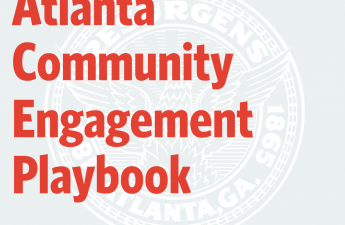 The City of Atlanta is setting a standard for best practices in community engagement. After an 18-month community led process, associations, municipal agencies, and service providers have released the Atlanta Community Engagement Playbook. This playbook is designed for those with a shared interest in building successful engagement processes and reaching higher levels of community engagement.
Higher levels of community engagement mean that residents own and take leadership over civic change, rather than just observing or even providing feedback. Strong engagement is built on dialogue with a natural push and pull.
This playbook has been designed to mirror that constructive process. It is meant to help two broad categories for groups – community associations and service providers – lead successful and collaborative engagements. Learn more here.