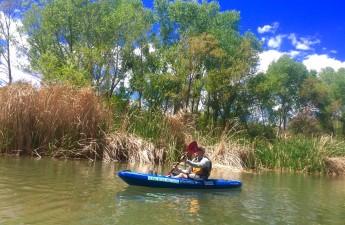 Bloop!
Any idea what that sound is? "Bloop." Followed closely by "oh, man…really??"
That is the audio track of my GoPro slipping out of my hands and dropping into the murky green waters of the Verde River in Central Arizona. As I searched desperately around my little blue kayak, hoping for sheer luck that the camera would be floating around within arm's reach, all the cool shots and scenes I had been shooting over the course of the morning flashed through my mind. Now I realized all of that footage was probably laying on the bottom of the river – maybe nestled in a little cubby between a few rocks, or tumbling gently towards a waiting sandbar.
Lost.
I had arrived in the Sedona area the day before. A number of local groups were getting together to collaborate about different ways that we could all appeal to local communities, statewide interests, and national travel outlets to shine a light upon how amazing this part of the country is, and incredible and integral the Verde River is to this entire area. Since some of us from American Rivers were traveling from Colorado for this meeting, we thought that after sitting in a conference room for a day, we would relish the chance to see and explore this hidden southwestern treasure.
In 2014, National Geographic named the Verde Valley as a Geotourism destination, elevating the area as a significant natural travel destination. We basked in warming temperatures and sunny skies as the Colorado mountains were being pounded by a late spring snowstorm. With birds singing and desert plants blooming to life, we launched our small floatilla of sit-on-top kayaks from the Lower Tapco put-in, gliding under tall cottonwoods and among desert willows that were like strong shoulders forming the banks of this lovely river. Our tour guide, Doug Van Gausig, is not only the force behind the Verde River Institute, but also the mayor of nearby Clarkdale. He was excited to have our trio of American Rivers staff on this excursion, as he enthusiastically pointed out rare plants and identified unique bird species merely by their delicate chirps and songs.
I had been shooting all this life and diversity with my handy GoPro – well, until that moment came where wet hands and a random distraction led to the clumsy tragedy of the day. Between exciting riffle chutes, to Sinagua Indian ruins tucked neatly in high cliff bands, to historic structures from a time gone by, the experience we were capturing on this gentle river was extraordinary. And while nearby Sedona gets much of the press for its eye-popping scenery, crystal-vortex tourist traps, and crowded destination-travel sensibilities; it is easy to see why National Geographic identified the Verde Valley near the towns of Clarkdale, Cottonwood, and Camp Verde so highly as a geotourism destination. For those seeking an authentic and adventurous outdoor experience, a trio of growing and progressing communities, and a historic tour through a hidden gem in the West, the Verde River deserves a push-pin on your bucket list map.
And when you go, if you find a random GoPro laying along the river bank, please send it my way. Thanks!
Photo Credit: Fay Augustyn, Verde River, Arizona