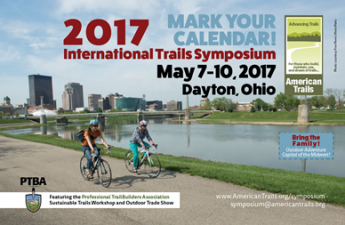 The 23rd Annual International Trails Symposium is May 7 – 10, 2017 in Dayton, Ohio! Do you have a success story you would like to share? Submit your presentation proposal and help make the 2017 Symposium a success!
To help develop an exciting and motivating program for the Symposium, please submit your ideas for presentations in support of the Symposium's theme, "Trails Take Flight: Connecting People, Places, and Possibilities."
Proposals can be for national or international presentations.
Types of Presentations
There are several types of presentations you can propose, each with a different time allotment depending on the depth of material you would like to incorporate (see descriptions for each on the Call for Presentations webpage or by downloading the PDF for details):
Concurrent Sessions (1.25 hours)
Core Tracks (3 or 6 hours)
Poster Presentations
Trail Talks (1 hour)
Preferred Topics for Presentations
Presentations should address one or more of the topic areas below, as they relate to the Symposium's theme:
TRAIL PLANNING, DEVELOPMENT, AND BUILDING

Concept, Plan, Design, Amenities, Landscape Architecture, User Specific Trail Design Concepts and Techniques, Cutting Edge Construction Techniques, Hybrid Contracting

TRAIL MANAGEMENT

Operations, Maintenance, Programming, Volunteers, Users, Youth/Conservation Corps

TRAIL POLICY

Policy, Legal, Advocacy, Safety, Health, Funding

TECHNOLOGY

GIS, Mapping, Mobile, Research, Analysis

COMMUNITY DEVELOPMENT

Tourism, Destination, Economic Impact, Trail Towns, Public/Private Partnerships

COMMUNICATIONS STRATEGY

Marketing, Public Relations, Communications, Education

INCLUSION

Equity, Diversity, Accessibility, Empowerment

NETWORK

Regional, Multi-jurisdictional, Coalitions, Collaborations
SUBMISSION INSTRUCTIONS
Proposals must be filled out and submitted via the online form at: https://www.surveymonkey.com/r/95F3BPZ
The deadline for proposals is Friday, December 9, 2016.
Concurrent and Core Track Sessions will be eligible for consideration for CEUs only if all questions in the Proposal Form have been answered (Poster Presentations and Trail Talks are not eligible for CEUs).
If you have questions or need clarifications regarding your presentation proposal, contact Symposium Program Co-Chairs Rory Robinson at rory_robinson@nps.gov or (330) 657-2951 or Eric Oberg at eric@railstotrails.org or (614) 837-6782.
The Program Committee looks forward to receiving your presentation ideas by December 9, 2016!