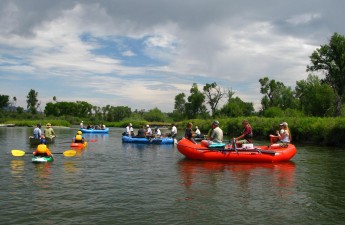 In 2009, American Rivers, the Waccamaw RIVERKEEPER® and the Pee Dee Land Trust began working with communities along the Waccamaw River in South Carolina to create a Blue Trail with the goals of enhancing recreational opportunities, connecting communities to their hometown river, and protecting clean drinking water and riverside lands from poorly planned development.
When we began our work on the Blue Trail, we wanted to know more about how communities along the Waccamaw feel about it as a community resource as well as efforts to improve recreational opportunities and protect it for future generations. We hired a professional polling firm to help us.
To gain as varied a sample as possible, the firm interviewed 500 residents of Horry and Georgetown counties in South Carolina through a random-dial phone survey from urban and rural communities and diverse backgrounds. Key components of the poll included questions regarding preferred conservation measures, questions aimed at gauging support for political candidates that support enhanced recreation, and the ways in which the community supports protection of important natural resources.
Poll results: The poll results showed overwhelming support for the establishment of the Blue Trail and a variety of methods to protect the river. A vast majority of survey participants supported protecting the river (94%) and establishing the Blue Trail (80%). Poll respondents thought that a political candidate's view on protection of natural resources was very or somewhat important (83%). One of the most surprising results were the ways in which respondents supported protecting the Waccamaw. The number one way that respondents supported protecting the Waccamaw was through laws and regulations (87%), followed by land acquisition (76%), and then incentives and tax credits (68%).
Benefits: The polling results were helpful in our initial outreach efforts with local elected officials and community leaders. They also garnered significant media coverage and provided valuable insight into the public's perception of Blue Trails and local conservation initiatives.
We immediately presented the poll results to city and county councils. These presentations provided us the opportunity to show that there was community support for protection of the Waccamaw and also offered a voice counter that of the vocal minority, speaking out against codes and ordinances that protect clean drinking water and critical riverside lands. Additionally, the media coverage put the preservation of this important resource in the spotlight, showcasing the broad support protection efforts had within the community. As a result, we were able to work with local partners and county staff to build support for the passage of an ordinance that better protects the river.