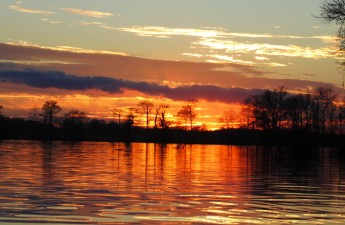 The Waccamaw River and the Waccamaw River Blue Trail experienced a banner year in 2014! Not only did supporters and partners on the Waccamaw River work to promote recreation and access along the river but they also worked to protect these critical lands and water for generations to come! Both visitors and local users of the Waccamaw River Blue Trail have the opportunity to further explore and appreciate the great resources that are available to them. . Here is a quick highlight of some of our greatest successes along the Waccamaw River:
 The Waccamaw River Blue Trail, which is supported by a diverse group of partners from both North and South Carolina has been expanded to include the complete river, beginning near Lake Waccamaw, meandering through the Waccamaw River Heritage Preserve, City of Conway, and Waccamaw National Wildlife Refuge before merging with the Intracoastal Waterway and ends at Winyah Bay near Georgetown. This fall, American Rivers and our partners released a new Waccamaw River Blue Trail map that helps users navigate the river and its sites and interests.
The Waccamaw National Wildlife Refuge, through a strong community partnership, was able to conserve approximately 2000 acres with a $2.5 million grant from the Land and Water Conservation Fund.
The Waccamaw River Blue Trail has made enormous strides in protection with help from the North Carolina Coastal Land Trust who purchased 670 acres of bottomland hardwoods and cypress-gum swamp along the Waccamaw River just south of Lake Waccamaw State Park in North Carolina. This land conservation acquisition serves to protect the water quality, environmental health, diverse fish and wildlife, and the outstanding recreation opportunities on the Waccamaw.
The new year is shaping up to be even better than the last as regional partners are working hard on pursuing conservation and protection opportunities along the Waccamaw, especially those that emphasize connectivity and promote recreation. The City of Conway has also become a supportive partner of efforts with Mayor Alys Lawson acknowledging that "We know that our environment is really one of the things that sets the City of Conway apart, and it has for generations."
There are several opportunities for eco-tourism in the area and many are recognizing that natural amenities are a not only of value to the community, but also serve as a draw to Myrtle Beach visitors that may be looking for a change of pace from those salty, sandy beach days. As these pictures of a Waccamaw River winter sunset show, there is definitely a show worth coming for.
The Waccamaw River Blue Trail not only works to improve recreational opportunities as well as supporting the local economy, but it also helps to educate citizens, local governments, and elected officials about the importance of the river as a community asset, increase community involvement in the river, and support conservation. Hopefully 2015 is a year for many celebrations on the Waccamaw. Check back often to see what announcements have been made regarding our work and plan a trip to enjoy this one of a kind river.