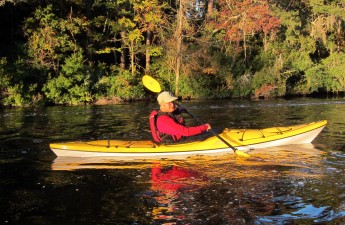 Today's blog is a guest post by Howard Bridgman.
---
It was a beautiful crisp November afternoon; the tide was full – just beginning to ebb – as our group followed the river downstream. We paddled past Colonial Dorchester State Historic Site in view of the tabby fort that protected the river during the Revolutionary War. The sun had fallen behind the trees and the nip of winter to come was in the air as the paddlers were greeted at the Dorchester Boat Club with hot coffee, snacks, and local craft beer from Freehouse Brewery. Freehouse, a supporter of American Rivers and the Ashley River Blue Trail, is located just downstream on the banks of the Ashley in North Charleston. People were alive with the joys of our scenic paddle and the prospects of hot, steamed oysters soon to come.
The event was American Rivers' inaugural paddle trip and oyster roast for the Ashley River Blue Trail, which flows from Summerville to Charleston, South Carolina. We invited members of municipal governments, local businesses, and paddlesport enthusiasts to explore the river with us and better understand the importance of its recreation benefits and in making sure it is accessible and remains healthy for the future. A turn out of approximately 70 local leaders for the event on a cool autumn day fulfilled that goal.
For many the trip was their first exposure to the upper Ashley River, and the purpose of our day was to let people see firsthand what a gem the Ashley is while also understanding that actions need to be taken to ensure it remains that way. The trip was followed with a warm-up around the fire and words from Gerrit Jöbsis, Southeast Regional Director of American Rivers, about how community-led Blue Trail initiatives can and have improved recreational access while putting in place safeguards to ensure it will remain a valuable community asset for future generations. A video of the Hitchcock Creek Blue Trail was shown, a community success story where citizens around Rockingham, NC created a paddle trail that improved access, created greenways, protected critical riverside lands, and now serves as a driver for the local economy. Robust discussion followed about how the Blue Trail can be an engine for improved recreation and conservation on the Ashley River. The evening drew to a close with roasted oysters and good conversation around the fire. New friends were made and many left inspired about the potential of the Blue Trail and the actions they and their community can take to keep the Ashley River the gem that it is.
---
Howard Bridgman, former Summerville Town Council member and founding member of the Ashley Scenic River Advisory Council, serves as the Ashley River Blue Trail Coordinator and works to connect local communities to the river through recreation and finding ways to ensure its long-term health.