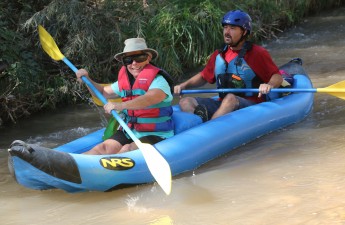 Join us on Tuesday, December 13th at 1 pm for our December monthly webinar. Led by Chris Seek the president and CEO of Solimar International, he will describe how communities can use sustainable tourism to build support for river conservation through a case study in the Verde Valley of Arizona.
---
As one of Arizona's last perennial rivers, the Verde River is one of the state's most unique and threatened natural resources. Its watershed and riparian habitats are critical local ecology for human, animal, and plant life. To preserve and restore this valuable resource, Solimar International and National Geographic Maps implemented a sustainable tourism program in the Verde Valley region to bring together 6 communities and hundreds of tourism businesses and conservation organizations to increase the value and importance of the river as a vital economic asset.
Sign up today for our December Webinar on Tuesday, December 13th at 1 PM ET. This webinar will present this case study and share some ideas for how other river communities can use the power of sustainable tourism to promote river conservation.
Participants will learn:
– Using tourism as a catalyst for public engagement for tourism development and river conservation;
– Ways to generate awareness of and interest in visits to the region;
– How to create powerful tools for the promotion of river communities as sustainable tourism destinations.
Who Should Attend:
Nonprofits organizations

Governmental entities

Anyone who wants to learn more about the ways to improve ecotourism in your community 
Photo Credit: Verde River, South By Southwest Adventures