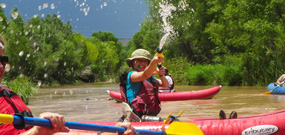 Last call for a great funding opportunity that provides support for on-the-groun projects that support community connection to the outdoors! Apply for the Keen Effect Grant – applications due on June 10th!
In its third year, the Keen Effect program will award $100,000 in grants to non-profits around the world to help build stronger communities and a healthier planet by preserving the natural environment where we work and play. We look forward to supporting a new group of dedicated, grassroots partners through this year's grant-making cycle."
Since 2013 the KEEN Effect grant program has awarded over $220,000 to nonprofits in local communities spanning nine countries and 22 U.S. states. Positioned under the KEEN Effect – which has donated more than $10 million in cash and resources to non-profits around the world since 2004 – the KEEN Effect grant program encourages non-profit organizations that align with the company's outdoor-focused, core values to apply for funding to support their on-the-ground work.
The application window is currently open and runs through June 10, with grantees announced on July 29.
Funding Criteria
Projects must increase responsible outdoor participationas a way to work towards building a strong community.
Projects should be innovative and creative.
Projects should have clear goals and measurable objectives.
Projects that introduce new audiences to the outdoors through responsible outdoor participationwill receive special consideration.
Project leads must be willing to interact with KEEN online and should leverage social media technology as appropriate.
Project leads should be capable of working collaboratively with KEEN throughout the program process and project reports must include a minimum of five high resolution photos.
$10,000 Grants awarded to U.S. non-profit organizations or equivalents outside of the U.S.
Learn about the Keen Effect and other funding opportunities on the Blue Trails Guide Funding Database. Applications are due June 10th, so check out the application today!
Photo Credit: DougVon Gausig, Verde River