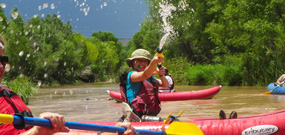 Are you looking for a funding opportunity to connect your community with the outdoors and encourage outdoor exploration? Check out The North Face Explore Fund! Through these annual grants, The North Face seeks to inspire and enable the next generation of outdoor explorers and conservationists.
This year, to celebrate the National Park Service Centennial, The North Face is setting aside funding to give special consideration to Explore Fund applicants that activate their programs in national parks. Nonprofits that have the ability to work with fourth graders in support of the Every Kid in a Park initiative are also encouraged to apply. Also new this year, applicants may request that The North Face athletes participate in their events and activities.
The North Face Explore Fund provides grants to U.S. based nonprofit organizations that connect people to the outdoors and support outdoor exploration. To be considered for an Explore Fund grant, applicants must be 501(c)(3) nonprofit organizations or in a formal relationship with a qualified fiscal sponsor.
Typical awards are between $5,000 and $25,000. The Explore Fund is a highly competitive grant program and a limited number are awarded each year.
Applications should show how funding will be applied to a particular project or program. Additional budget guidance appears in the application. Check out the criteria to learn more and apply today. The application deadline is Tuesday, April 5th.
For more funding opportunities, check out the Blue Trails Guide Funding Database!
Photo Credit: Verde River, Doug Von Gausig