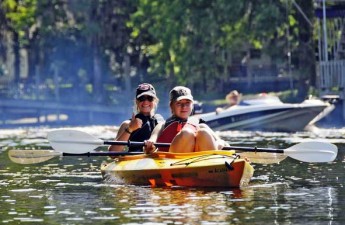 Success on Capitol Hill! Today, after expiring at the end of September, funding for the Land and Water Conservation Fund (LWCF) was restored!  LWCF has been a staple funding source for communities across the country interested in building community river trails, parks, hiking and biking trails and protecting important places in their community. It allows for people in urban centers and in rural landscapes to have a park or a trail in their backyard.
Enacted in 1964, LWCF was established to help create more open space, protected places and access to the outdoors for everyone. LWCF has funded national parks and forests like the Congaree National Park, has expanded wildlife refuges and other federally protected places like the Waccamaw National Wildlife Refuge and has given funds to cities and towns to build trails, parks, playgrounds and other spaces to get kids outside.
Today, LWCF funds were reauthorized for the next 3 years at $450 million! While permanent protection of LWCF is the end goal, this is a celebratory step that we all contributed to – helping to ensure the protection of this critical funding source!
Photo Credit: Waccamaw River, Charles Slate