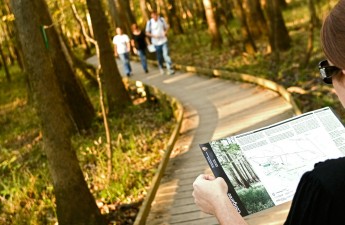 Citizens of South Carolina received some good news earlier this fall. The Congaree National Park, the highlight of the Congaree River Blue Trail, is getting bigger.
Through the Leadership of Senator Lindsay Graham and Representative James Clyburn, Congress voted to fund the expansion of South Carolina's only National Park by 2,000 acres. The expansion will connect two previously unconnected areas of the park including the section on the Wateree River Blue Trail. The expansion was supported by local and national organizations including Congaree River Blue Trail Partners, American Rivers, and Friends of Congaree Swamp, as well as by a class of seventh graders in rural Richland County. Read more about how the local community helped expand one of South Carolina's treasures.
The new section of the park will provide new and exciting opportunities for recreation both on land and for paddlers enjoying the Congaree and Wateree River Blue Trails. It will also protect wildlife habitat, clean water, and cultural heritage for the very seventh graders that worked to expand it.