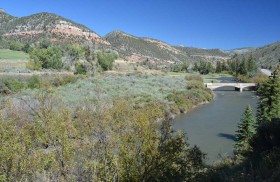 Eagle County in Colorado has moved one step closer to adding well over a mile on the Eagle River to open space and public access. Last week the County signed a contract for purchase with the owners of the old Horn Ranch in the heart of Red Canyon. The Horn Ranch, one of the most scenic reaches along the Eagle River and I-70, lies in the middle of the Eagle Valley, between Vail and the towns of Eagle and Gypsum.
The County's purchase will acquire lands south of I-70 along the river and southerly uplands in Red Canyon along with a conservation easement on the remaining ranch lands north of the interstate highway. It will also link BLM public lands along the river from Wolcott upstream through the rest of Red Canyon downstream.
This is a huge boon for those who love to fish and float on the Eagle River! The ranch owners and Eagle County Open Space have been working on this deal for a long time, and it should close later this year. Eagle County plans to build a single access point and parking area on the western end of the property with a recreation trail along the north side of the river.
American Rivers was proud to support this great project by giving testimony at the county commissioner's meeting in last week. We applaud Eagle County in this successful and significant addition to its open space system!