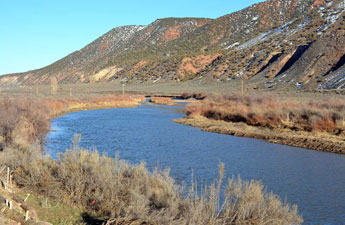 Last week I blogged about the connection between the economy, recreation and open space here in the western United States. Protecting open space is beneficial for both residents and tourists alike, and in turn is good for local economies.
According to the Colorado Division of Wildlife, hunting, fishing and wildlife watching has had a $3 billion impact on the state economy and created 20,000 jobs in Colorado alone. Across the west, the Outdoor Industry Association found that approximately $47.8 billion was spent on outdoor recreation – including hiking, fishing, paddling and biking. When people come visit these amazing places, they have to sleep and eat too, so there are a number of direct benefits recreation tourism has on local economies. These numbers illustrate how critical protected public lands are to western communities and economies.
Earlier this winter while on a ski trip, I made a visit to the Eagle County's Duck Pond [PDF] an open space parcel within Eagle County to enjoy the winter views of one of my favorite rivers in Colorado, the Eagle. As I sat with my coffee in hand shivering a bit to stay warm and enjoying the peaceful moments along the banks, all I could think about was the summer ahead. Visions of fishing, tubing and enjoying the amazing wildlife that depend on this open space filled my mind. There was little I could do to contain my excitement for the summer ahead.
American Rivers is working with communities across the country to protect incredible landscapes and the rivers that flow through them just like the Eagle, through the creation of Blue Trails. This is just one of my favorite protected places. What's yours?