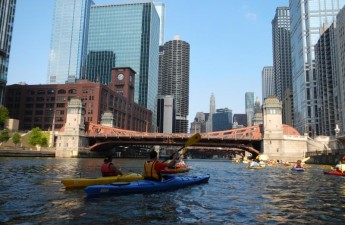 Today's post is by guest blogger Natalie Warren, with Wild River Academy and St. Croix River Association. This is the first part of a two part series on marketing your local river. 
---
I discovered my love of paddling and the outdoors through exploring wild and scenic rivers. On those trips, I admired the scenery and ecological health of the remote areas of the world. However, it takes big bucks and a lot of travel time to reach those areas, which excludes people with little money or little time from participating in such expeditions. Paddlers in remote areas often adhere to the "granola myth" of packing everything out for their journey and spending little money in nearby towns. They hear about great paddling spots through the grapevine and often times try to keep it a secret.
However, there is a hip and quickly growing market for paddling opportunities paired with modern comforts and local amenities. There is an untouched population waiting to paddle hard, eat well, and even take a hot shower at night (and spend money!).
If your community is by a water trail then you are in luck. City tourism groups have been given a godsend for marketing their towns. No, not just what jobs are available. Or that annual event or festival. The recreation opportunities on land and water provide a holistic framework for marketing everything else within the community: lodging, jobs, public health, recreation, community, economy, dining, community pride…you name it. It can all been seen and told through the lense of a river or water trail.
Last year, I had the pleasure of working on a project with the River Management Society to compile a summary of existing economic impact studies on water trails. What we found was, (1) yes, water trails can have a huge economic impact on communities, (2) there needs to be a more consistent and accessible way for communities to do economic impact studies for their water trails, and (3) Dining, lodging, and outfitters were the most important amenities to increasing paddlesports tourism, and accounted for the majority of visitor expenditures in the studies.
Are you interested in learning more? Check back later this week for the second part of the blog series and join us this Tuesday, April 26th at 1 PM Et/11 am MT as we dive into best practices, case study examples and fun ways to attract locals and tourists to your river and your community!
Photo Credit: Chicago River, Gabe D (Creative Commons – Flickr)