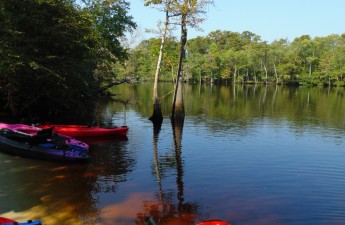 My heart still skips a beat every time I see a swallow-tailed kite soaring above me. Plentiful osprey make me hold my breath as they dive in to the Waccamaw River for their dinner and nest amidst the tall cypress trees, nothing compares to the tremendous wingspan of the swallow-tailed kite and it's striking markings and signature forked tail. The Waccamaw National Wildlife Refuge and surrounding area supports the highest density of nesting swallow-tailed kites in South Carolina and is the northernmost documented nest site for the species. These incredible birds are only one of the many reasons the Waccamaw NWR has stolen my heart.
Each and every National Wildlife Refuge is a haven for important species in that area. While NWR aren't as well-known as National Parks or wilderness areas, they are an amazing place to explore the outdoors, connect with local habitat and experience the amazing species that call the Refuge home. Celebrate National Wildlife Refuge week with us from October 11 – 17th and get out and explore a refuge near to you!
Located in portions of Horry, Georgetown, and Marion counties on the South Carolina Coast, the Waccamaw NWR spans thousands of acres and includes large sections of the Waccamaw and Great Pee Dee (Big Pee Dee to us local folks) rivers along with a small section of the Little Pee Dee River. The wetland diversity sets this refuge apart from others found along the east coast with habitats ranging from historical and actively managed tidal rice fields to black water forested wetlands. The range of habitats in the Waccamaw NWR support more than 400 species of animals- swallow-tailed kite, osprey, wood stork, white ibis, green heron, and many species of waterfowl can be observed on a seasonal basis. I had a birdwatching dream come true this spring as I got to paddle by nesting blue herons high in a massive cypress tree on refuge land. Dozens of pairs had built their massive nests and a fluffy baby or two peeped their head out causing squeals of delight from my all adult outing.
Every time I head out to enjoy the Waccamaw NWR, I know I will experience something new whether it's new vistas, new birds to spot, a bear spotting, or catching the perfect sunset. I love hiking at Cox Ferry Lake Recreation Area, enjoying the well maintained 3 miles of nature trails. The kiosks provide information and routes to take and there is a shelter with picnic tables, making for the perfect outing for the family or a picnic spot for two.
My favorite way to take in all that the refuge has to offer is pairing up kayaking and hiking. It is the best way to see the Refuge and nothing beats the peace that fills you when you are paddling that gorgeous black water surrounded by the reflections of the cypress and tupelo. I love paddling to Sandy Island, where the Waccamaw and Big Pee Dee Rivers come together mixing their distinctly different waters so it looks like pouring creamer into coffee. The osprey are always calling, pulling you from the city and stress back in to nature.
The Waccamaw NWR is a treasure, protecting precious habitats and helping to provide clean drinking water for the surrounding areas. Locals and visitors alike are able to hike, bike, stroll, birdwatch, fish, paddle, and practice their photography skills on the amazing views and wildlife. I just love the peace that immediately overcomes me when I step in to this amazing resource and gaze over the reflective waters of the Waccamaw. I never miss the chance to take visitors out and thought I could babble endlessly about the history and wildlife, I love watching people fall in love with this refuge all on their own.
What is your favorite way to explore your local Wildlife Refuge?
Photo Credit: Waccamaw River, Gator Bait Adventure Tours