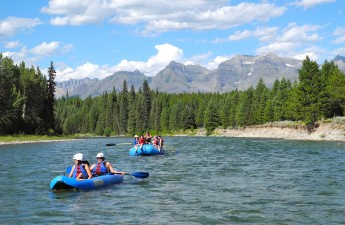 In June, American Rivers released a new report,  A Guide to Sustainable Recreation Management Planning Report. Learn more about the report and how you can implement a recreation management plan in your community!
Clean, healthy rivers are the lifeblood of our communities and are vital to our health, safety, and quality of life. Most Americans live within a mile of a river or stream, and much of our drinking water comes directly or indirectly from rivers and streams. Beyond providing all these useful services, rivers are also just plain fun. River recreation is not only fun, but it also boosts local economies and creates more than 800,000 valuable and sustainable jobs across the US. In fact, the OIA research also stated that outdoor recreation participants spend $86 billion annually on watersports alone, the second highest revenue stream behind camping (at $142 billion).
Download A Guide to Sustainable Recreation Management Planning Report
There is little doubt that enjoyment of our natural resources is valuable. However, there are challenges such as over-crowding, pollution, and resource degradation that arise when outdoor recreation is not properly managed. Not only is the river at risk, but users may also experience dangerous situations if river health and recreational amenities are not managed properly. For example, when river hazards, such as low-head dams and other potential diversions, are not well marked, kayakers or tubers who are unfamiliar with the river could go over the dam and get caught in a recirculating pool at the bottom of the rapid. Too many users on a river at one time could lead to water quality issues if trash or human waste is not properly managed.
Additionally, conflicts between diverse user groups, such as anglers and paddlers, could pose unique challenges to the management approach. Conflicts may occur when paddlers or tubers disrupt the fishing activity of anglers by overcrowding sections of river, moving into eddy's and other areas where fish naturally hide.  Wildlife watchers could also be negatively impacted when other user groups like campers along the river or other river users make noise that scares away birds or wildlife. Lastly, the recreation experience is further diminished by conflicts created by illegal activities such as trespassing, littering, or illegal dredging occur along rivers.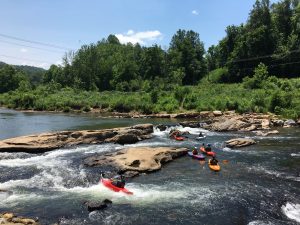 While rivers are resilient, like any natural resource there comes a tipping point. River recreation management helps strike a balance between encouraging recreation and protecting our communities' most valuable natural resources. A framework for designing recreation improvements and managing ongoing use has emerged from collaboration with public land management agencies and local jurisdictions.
The process of creating a river recreation management plan provides an opportunity to engage people around their rivers, educate community members about rivers in general and build support for their long-term protection. It also provides an opportunity for individuals already actively engaged around their local rivers to share their knowledge with others in the community.
The goal of this guide is to provide a framework for local governments, planners, non-profit organizations, and others to develop an effective river recreation management plan that has strong community support. It will provide resources and case studies that shine a spotlight on communities that have navigated the recreation management planning process and developed and implemented successful river recreation management plans. The guide is organized in the following steps:
Gather Information
Solicit Input and Build Community Support
Set Management Priorities
Develop a Monitoring and Evaluation Plan
Fund Your Plan
Download A Guide to Sustainable Recreation Management Planning Report
The creation of a river recreation management plan will help communities enhance recreational and economic opportunities, preserve the outstanding values that make local rivers and their connection to the local community special, and leave a legacy of healthy rivers for generations to come.
Photo Credit: North Fork of the Flathead River, Montana, Mike Fiebig; Tuckasegee River, North Carolina, JCTDA