Thanks to funding, in part, provided by a grant from The Community Foundation of Western North Carolina, planning for the Tuckaseigee River Blue Trails project is well underway! American Rivers, working with local partners will create a plan to guide local efforts to enhance the river, promote family-friendly recreation, connect people to nature and boost the local economy.It will also provide funding to undertake necessary preliminary work to remove the Cullowhee Dam.
The Tuckaseigee River
The Tuckaseigee River is nestled in the shadows of the Great Smoky Mountains National Park and is a recreation and wildlife treasure that flows through the communities of Cullowhee, Dillsboro and Bryson City before joining the Little Tennessee River.  The river and its tributaries are entirely within Jackson and Swain counties and hotspots for fishing, paddling and family fun are key drivers of the local economy.  These same values also put "the Tuck", as it is known by locals, at risk as rapid growth in the greater Asheville community pushes into the watershed and threatens the very values that people seek to enjoy.
The Tuckaseigee is loved by locals and known to many from afar. Coursing 60 miles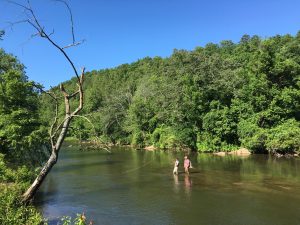 from its origin in the Panthertown Valley to Fontana Lake, the river changes in size and character along its meandering path.  The Tuck and Jackson County are home to the Western North Carolina Fly Fishing Trail, the first and only fly fishing trail in the United States.  This trail has caught the attention of fishing enthusiasts from across the country and has been featured on at least one national outdoor fishing show each of the past three years.  The Tuck and its tributaries offer something for every angler from the trophy trout of Raven Fork, to the catch and release native brook trout in Panthertown Valley, to the chance to hit the Tuckaseigee Slam – catching all three species of trout, brooks, browns and rainbows from one spot.
The Tuck is also a haven for paddle sports and family friendly recreation. Multiple well-maintained boat launches along river make easy access for canoes, kayaks, drift boats, rafts and even paddleboards for the most adventurous wanting to challenge the lower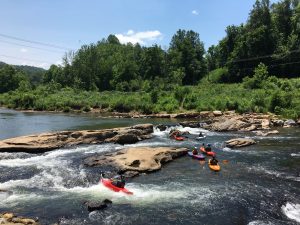 river's Class III rapids. For those inclined to more leisurely fun, the upper Tuck offers multiple access areas where families can gather at riverside picnic areas or folks can just enjoy a little down time. Not to be forgotten, the Tuck and its tributaries also provide crucial habitat for rare wildlife such as the Appalachian elktoe mussel and the sicklefin redhorse, a native fish, as well as drinking water for the Town of Sylva and Western Carolina University.  With all of these outstanding values from just one river, it's easy to understand why keeping the Tuckaseigee River clean and healthy is crucial today and for future generations.
Stay in the loop about the Tuck and other river recreation planning efforts by subscribing to the Blue Trails Guide eNewsletter! Join here today!
Photo Credits: Tuckaseigee River, All Courtesy of JCTDA