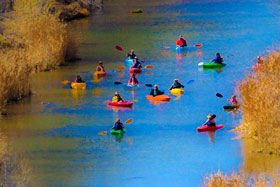 Clarkdale, Arizona, and many other local partners are working with American Rivers to improve recreation and preserve the Verde River through the creation of a Blue Trail. As part of this project, Clarkdale is creating the first river park along the Verde called, "Verde River @ Clarkdale." This park will provide access to the river, kayaking facilities, educational opportunities and economic development plans based on a flowing, vital river.
Other local organizations are working to reduce invasive plants, improve access, encourage economic uses and define the hydrology of the Verde. These efforts, energized by a core group of dedicated, passionate river enthusiasts are showing real progress in improving the Verde's sustainability and continued good health. In fact, the future of this riverside oasis has never looked better!
In the coming years, with the help of organizations like American Rivers, more and more people will become Verde River enthusiasts, more will "value the Verde," and more will want to do whatever it takes to make sure the river stays in their lives. Kayakers and canoeists, birders, swimmers, anglers, and people who just want to relax in a peaceful setting will make this incredible desert river one of the top recreation destinations in the desert southwest.
River festivals will punctuate the year and small businesses will spring up to serve the people who love the Verde. Every year, more paddlers discover the Verde. Families can paddle the upper stretches, near Clarkdale, in safety and relative comfort. Those with a more adventurous spirit find the lower Verde challenging and thrilling, as it tumbles through the Wild and Scenic-designated stretch below Camp Verde. And people who want to float lazily along in an inner tube find calm pools and riffles in the "Verde River @ Clarkdale" park.
Over the next few years, we'll see a transformation of the Verde River and the Verde Valley community that it enriches. We'll see a river that takes its rightful place in the economic and social development of central Arizona by providing the cities and towns along its banks with beauty, peace, recreation, and economic vitality, and we can all be proud that we played a part in saving one of America's most beautiful natural treasures!