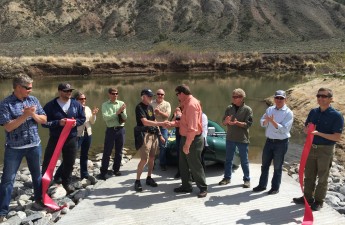 Join us for our October webinar on Tuesday, October 27th at 3 pm ET/1 pm M. We will learn more about Prepare to Launch! Guidelines for Assessing, Designing, and Building Launch Sites for Carry-in Watercraft. Corita Waters and Lelia Mellen with the National Park Service will lead a 30 minute engaging presentation. 

A key question that needs to be addressed when connecting people to their rivers and waterways is how do they get in and out? Prepare to Launch! is designed to help river and water trail managers,and park planners answer this question. Drawing on existing case studies, this image heavy document focuses on how managers can build 'put-in and take out' sites as they address the evolving needs of paddlers and other users of non-motorized or hybrid (launches that welcome both non-motorized and motorized) watercraft.
This presentation will dive into the Prepare to Launch! online platform, with the opportunity for session attendees to become familiar with the tools and resources available. Participants will also have the opportunity to evaluate the good the bad and the ugly as we continue to evolve the best practices for the development of launch sites.
Attendees are encouraged to bring their own stories and lessons learned to share as we evaluate and discuss how to improve the body of knowledge for launch access. Sign up today and save your spot for October 27th at 3 pm ET.
Photo Credit: Toby Sprunk, Eagle River, Colorado