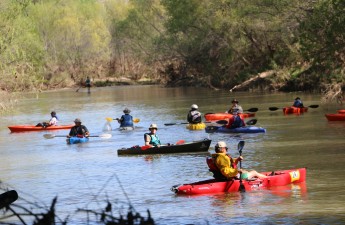 Today's post is a guest blog by Susan Culp, our Verde River Coordinator.
---
In the spring, Verde Valley residents and visitors look forward with anticipation to the end of March: the official start of the paddling season on the Verde River, and the annual Verde River Runoff Kayak and Canoe Race. The 2015 Verde River Runoff was held on March 28th, a bright warm day, when paddlers from all over the state and abroad (including a canoeist hailing from Kenya) come to the Town of Camp Verde to participate in the race.
This year's race included over 100 registrants in a variety of divisions – and this year we saw our first stand up paddle board participants in the Runoff. The starting line was set at White Bridge river access point, where racers were staged for the start of the race. Their goal: to be the fastest to reach the finish line at Beasley Flats – a 10 river mile stretch. For a full list of the winner from all divisions, check out the race report on VRVNO's website.
Winners were announced, high fives were slapped, and medals awarded at the Spring Wine & Pecan Festival near historic Fort Verde State Park in downtown Camp Verde. After the race, racers and spectators alike enjoyed the spring sushine, reflected on their day, and savored delicious local wine and food. For all of you paddlers out there with a bit of a competitive streak, or would look forward to a social and structured day on the river, be sure to sign up for next year's Verde River Runoff! It's a great way to win some acclaim for your paddling prowess, as well as support protection for the Verde River – an emerald oasis in our lovely, desert state.