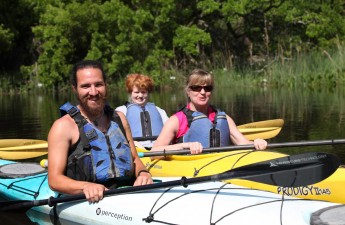 American Rivers believes that the best way to move people from environmental awareness to environmental action is by giving them an opportunity to experience and enjoy their rivers and lands through family-friendly recreation. All communities can and should have access to low-cost recreational opportunities like boating, fishing, hiking, and picnicking. And we provide the tools and resources to help communities make that happen. Once people know and love their rivers and lands, they will be more likely to take action to protect them.

To that end, we created the Blue Trails Guide, the first-ever step-by-step instructions for creating and implementing a community-based plan to protect rivers and lands and connect people to them through recreation. This guide is aimed at local, state, and federal governments and non-profit organizations that understand the value and need to protect our nation's natural resources and to connect people to them through recreation.
Download Blue Trails Guide: Helping Communities Protect and Restore Rivers and Landscape through Recreation

A blue trail is a dedicated stretch of river or waterway that enjoys special clean water protections and is a destination for boating, fishing, hiking, picnicking, and other recreation. Just as hiking trails are designed to help people explore the land, blue trails help people discover rivers and waterways. They provide a fun way to get kids active outdoors and are economic drivers benefiting local businesses and quality of life.
Blue trails also connect communities to treasured landscapes and offer a new popular approach to conserving land and water resources. Blue trails are often associated with conservation easements and land acquisition, and higher water quality standards. Riverside trees, wetlands and floodplains filter polluted runoff and soak up floodwater. While specific protections vary from community to community, blue trails can be an organizing tool, galvanizing citizens to support clean water and habitat safeguards.
Photo Credit: Ashley River, SC, Hugo Krispyn