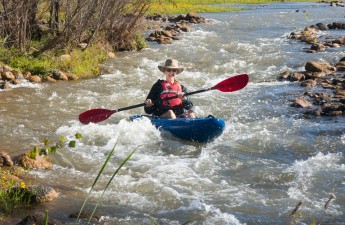 Knowing how to understand whitewater rapids is critical for running a river.
When planning a river trip, it is essential to pay attention to the level of difficulty that is associated with the reach of the river you are floating. Rapids are classified on river maps according to degree of difficulty (from Class I to VI).  In addition to paying attention to the class of rapid, it is also critical to pay attention to the flow rate of the river. Higher flows generally require more decisive and demanding maneuvers. Use extra caution at high flows when fast currents require shorter response times. The International Whitewater Scale rates rapids in the following ways.
Before you get out on the river, know where you are going and what level of expertise you and your river crew are capable of.
Class I Very Easy. Moving water with a few ripples and small waves. Few or no obstructions.
Class II Easy. Easy rapids with waves up to three feet and wide clear channels visible without scouting. Some maneuvering required.
Class III Medium Difficulty. Rapids with high irregular waves capable of swamping an open canoe. Narrow passages often requiring complex maneuvering and scouting from shore.
Class IV Difficult. Long difficult rapids with constricted passages often requiring precise maneuvering in very turbulent waters. Scouting from shore is often necessary; conditions make rescue difficult. Not runnable in open canoes.
Class V Very Difficult. Extremely difficult, long and very violent rapids with highly congested routes nearly always requiring scouting from shore. Rescue conditions are difficult. Significant hazards to life in event of a mishap. Ability to conduct a kayak roll is essential.
Class VI Extremely Dangerous. Nearly impossible to run and very dangerous.
 Photo Credit: Verde River, AZ – Doug Von Gausig