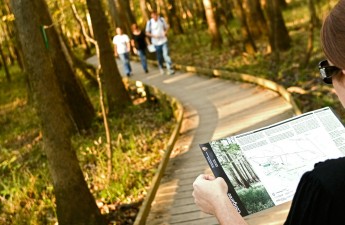 In 2015, the River Management Society conducted a review of public studies conducted to measure the economic impact of water trails. Their report, Making an Economic Case for Water Trails, summarizes notable findings from three economic impact studies produced by experts using data specific to the particular water trail, measured and reported using accepted analytical methods. Surveys and analysis of collected data specific to the economic benefits of water trails are brought to life by success story commentaries.
The Making an Economic Case for Water Trails report is here.
This video presentation summarizes the review of economic studies conducted for watertrails. Presented by Natalie Warren, RMS intern, describes her findings at the 2015 National Water Trails Forum.   The following documents are referenced in the summary.
Photo Credit: Congaree National Park