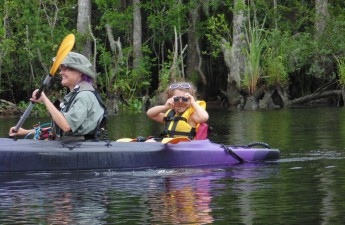 A Blue Trail is a river adopted by communities that are dedicated to improving family friendly recreation such as fishing, boating, hiking, and wildlife-watching, and to protecting rivers and surrounding lands. They are voluntary, locally led efforts that improve community quality of life.

You might be wondering, what's the difference between a Blue Trail, paddle trail, water trail, and National Water Trail?
They all have one important thing in common. They help people enjoy their rivers through recreation.
But Blue Trails are slightly different. The term "Blue Trail" describes an effort by communities to improve access and protect their river and surrounding lands.
For example, along the Eagle River Blue Trail in Colorado, communities are improving family-friendly recreation through new access while at the same time protecting riverside land through conservation easements and land acquisition. These efforts not only forever protect important areas for fish and wildlife but provide better opportunities for people to enjoy their river.
What's in the name?
"Blue Trail" is a term that American Rivers uses to describe our work. But we encourage communities to choose a name that is best for them. However, we encourage all communities interested in improving recreational access to look for opportunities to protect their river and riverside lands as part of their efforts to enhance river-based recreation.
So, in sum…
Blue Trails
Blue Trails are rivers adopted by local communities that are dedicated to improving family-friendly recreation such as fishing, boating, and wildlife watching and to conserving riverside land and water resources. They are voluntary, locally led efforts to improve recreation and tourism, benefit local businesses and the economy, and protect river health and wildlife. American Rivers supports the efforts of communities who want to connect to their rivers through recreation and protect their river. We provide guidance and training to communities as they embark on these efforts.
Paddle trails and water trails
A paddle or water trail is a network of access points, resting places, and attractions along a waterway for non-motorized boaters. They encourage recreation and education.
National Water Trails
The National Park Service designates National Water Trails to recognize exemplary water trails that are cooperatively supported and sustained. Learn more about the National Water Trail System.
Check out the Blue Trails Guide to learn more and to find tools to help you improve recreation and protect your hometown river.