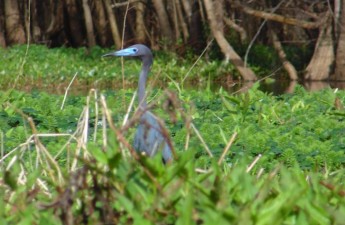 Spring has sprung on the Waccamaw River Blue Trail with birds nesting, flowers blooming, and breezes blowing keeping temperatures comfortable as the sun warms your face. Visitors began pouring in to the Grand Strand last month with spring breakers looking for a little relaxation. While many are drawn to our beautiful ocean and beaches, if you turn around you find a luscious backyard river flowing.
Peaceful blackwaters, the color of tea during sunny days due to the tannins that leach into the water as leaves and vegetation decays, tempt locals and visitors to hop in to kayaks and canoes to explore the unique. "As a result of the Waccamaw River Blue Trail, opportunities for river recreation have improved [because of] an increase in the number of outfitters operating on the Waccamaw and an increase in interest in kayaking, canoeing and paddleboarding on the Waccamaw," Ellis said. "The Waccamaw River Blue Trail has also served to focus efforts for land conservation along its length in both North and South Carolina."
Wildlife abounds with exciting opportunities to see swallow-tailed kites, blue herons, osprey, and many others. The trees are now covered in green and flowers are blooming, the great cypresses providing impressive scenery and shade along the river front. There are many outfitters along the Waccamaw River Blue Trail, including: Black River Outdoors, Gator Bait Adventure Tours, Great Escapes Kayak Expeditions (used by an author who recently came to explore the Waccamaw), Surf the Earth, and Waccamaw Canoe and Kayak.
To learn more about planning your own adventure on the Waccamaw River Blue Trail, visit the website.
Photo Credit: Blue Heron on the Waccamaw River, Gator Bait