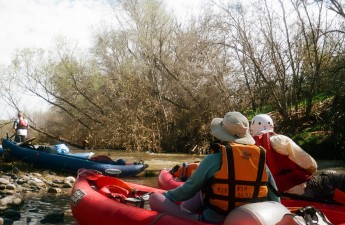 Today's post is a guest blog by Susan Culp, our Verde River Coordinator.
---
This St. Patrick's Day, I traded green beers and rowdy Irish songs for a different kind of green fun – a day on the Verde River to clean up trash and trim back strainers in preparation for this year's Verde River Runoff Canoe & Kayak Race. After the winter, there was a lot of debris and junk that was swept down the river that needed to be hauled out.
We started at White Bridge river access with a lucky group of 13 to comb the stretch of the Verde River between White Bridge and Clear Creek river access point for trash and hazards. Organized by Bob Rothrock, board member of the Verde River Valley Nature Organization, a crew of us set out to trim up fallen trees, low lying branches that could sweep a kayaker or canoeist out of their boat in rough stretches, and identify the hazard points along the stretch where safety boaters would be in place to guide and watch out for the racers.
The guys did an amazing job with chainsaws and hacksaws in grooming the river bank of the worst patches of low-slung branches along the tamarisk island, the claybank area, and even removed a rather largish tree that fell in during the storm and was blocking the channel downstream from there. We had a competition about who could find and pick up the most trash along the river, calling the boat that won the garbage scow.
All in all, we took in probably 8 trash bags full of garbage, a lawn chair, rake, miscellaneous hunks of Styrofoam, and various other items from the trash pickup. The river channel is also groomed of hazardous trees and branches, which will make for smooth river running for the kayakers and canoeists on race day!
Have you done a river clean up recently? What did you find?