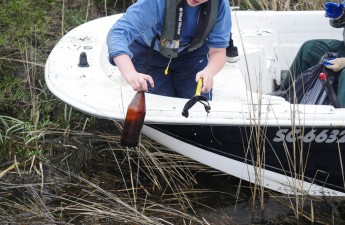 The Summerville Saltwater Anglers, a family oriented fishing club, held a successful second annual Ashley River Cleanup March 21 at Jessen's landing. The group has adopted the Ashley River, American Rivers newest Blue Trail. This year's event was twice as big as last year with 16 power boats, 4 kayaks, 38 crew and 15 shore based support staff. There was an amazing 3.2 tons of trash collected according to Carolyn Tomlinson of Keep Dorchester Beautiful. Carolyn and Lisa Hamilton provided bags, safety gear and moral support for the trash collectors.
SSWA's David Fladd organized the event and his son Jacob brought his friends from the Fort Dorchester High School Honor Society to help unload trash from the boats. Billy Condon of Triangle Char and Bar provided a great lunch at the landing.
Summerville Town Councilman Bob Jackson joined the Ashley Scenic River Advisory Council up river acting as mother ship for two kayaks. Jack Keeter and Howard Bridgman joined Bob up stream and focused on the Rosebrock and Ashley River Park areas. ASRAC had two other boats downstream with Captains Stan Whitman and Purnell Orvig cleaning up down river.
Robert Ford, SSWA President, used his beautiful Scout boat as a barge to transfer trash from the folks downstream to the dumpster at Jessen's where Phil Philyaw and his crew helped unload boats as they arrived.
It was a great day. We picked up tons of trash, spent time on a beautiful river and interacted with some great people. We felt very good about our results but were dismayed about the amount of trash we encountered. The Ashley is an amazing resource and deserves more respect.