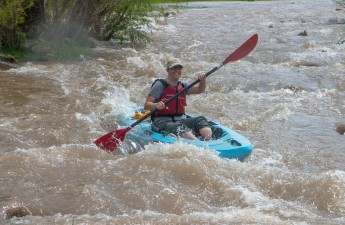 Today's post is a guest blog by Susan Culp, our Verde River Coordinator.
---
Summers in Arizona are hot, and when the thermometer starts creeping up above the 110 mark, it's time to beat the heat of the urban jungle and escape up north to bask in the cooler temperatures. And while many in Phoenix head up I-17 for the weekend to enjoy time in the cool pines of Flagstaff, there is also a hidden gem in the Verde Valley that some have come to love as an oasis from the hot summer days. Just a hop, skip, and a jump off the beaten path, lies one of Arizona's last remaining perennial rivers and its cool, cottonwood-lined banks – the Verde River near Clarkdale and Camp Verde.
Many stretches of the Verde are perfect for canoeing, kayaking or SUP adventures, even in the peak of summer when the flows are at their lowest.   The Verde River at Clarkdale, one of the most popular stretches among beginner and novice paddlers, has excellent river access points and flows through an amazing, intact riparian habitat with birds and wildlife galore for nature enthusiasts.
Clear Creek river access to Beasley Flats just southeast of the Town of Camp Verde, provides an easy launch point to a remarkable stretch of river. These sites, which are owned and managed by the Prescott National Forest, are also floatable through most of the summer. This stretch also tours through the beginning of the Wild & Scenic stretch of the Verde River, and offers a slightly more challenging and exciting paddle.
Unlike the bustling Lower Salt, these river stretches are relatively uncrowded, and the river communities are working hard to preserve their peace, solitude, and scenic beauty for all to enjoy, as well as terrific riparian wildlife habitat.
When you visit, please remember to be safe, and respectful of the river. Some tips for a great excursion to the Verde Valley include:
Always wear a life jacket and never paddle alone.
Be mindful with your consumption, as alcohol and boating don't mix.
Much of the land along the banks of the Verde River is private property. Please don't trespass, and only seek out public access point to put in and take out.
Practice Leave No Trace ethics, and pack out your trash.
River recreation and a healthy tourism economy around the vibrant river corridor is an important part of ensuring that the Verde River will continue flowing long into the future. Being a responsible steward of this remarkable Arizona treasure, and working together, will help preserve a flowing Verde River for generations to come. Enjoy!
Photo Credit: Doug Von Gausig, Verde River