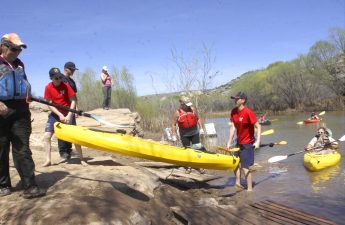 Today's post is a guest blog by Susan Culp, our Verde River Coordinator. 
---
The Verde River in the spring is a lovely place.  As the riparian corridor leafs out, migratory birds begin to arrive, with a chorus of warbling and singing to attract mates ensues.  Winter rains and snowpack in the high country raise the river levels, and with the warming temperatures, river recreation enthusiasts begin flocking to the river to paddle, birdwatch, and hike.
This year, we were treated to heavier than usual winter rains, which kept the river flows relatively high compared to past years.  This made for an exciting Verde River Runoff Kayak & Canoe race held on March 18th.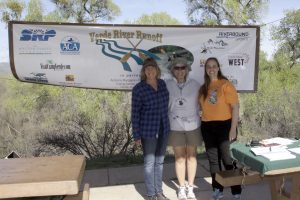 The higher waters meant for quicker finish times, and past participants were eager to shave time off their runs.  Jeff Johnson won the men's solo kayak division, as he has the past two years running.
Melinda Collis took first place for women's solo kayak.  Jason Kierein won in the newly created stand-up paddleboard division, and Brian and Ross Teske, and Mike & Tony Shaw, took the win in the tandem kayak and tandem canoe divisions respectively.
In May, Friends of Verde River Greenway hosted an inaugural "Verde State of the Watershed" conference to share information about local efforts to sustain river flows, restore and protect riparian habitat, and promote community connections with the Verde River through recreation enhancements and economic development.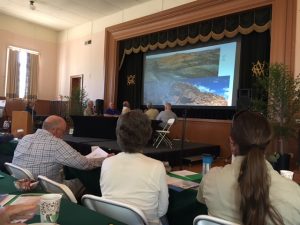 Over 230 people registered for the State of the Watershed conference, and the auditorium at Clark Memorial Clubhouse was packed!  The conference hosted panel presentations on flow restoration efforts, riparian vegetation and wildlife habitat restoration projects, and the connection of communities to the Verde River and its tributaries.
Leaders from all over the Verde Valley spoke passionately about the Verde River and what it has meant to them in their communities – including Yavapai Apache Elder Vincent Randall, Camp Verde Mayor Charlie German, Clarkdale Mayor Doug Von Gausig, and Cottonwood Mayor Tim Elinski.  The conference was attended by many more elected officials from the Yavapai County Board of Supervisors to city and town Council members, and staff from Congressman Tom O'Halleran's office.
Sarah Porter, the Director of the Arizona State University's Kyl Center for Water Policy, gave the keynote address titled "The Price of Uncertainty," which discussed Arizona's general stream adjudication and the challenges it causes for water rights certainty and water management.  Participants in the conference were also able to discuss specific projects in small-group settings at the Watershed Café topic tables.
It was a highly successful event, which American Rivers was honored to help sponsor, and demonstrates how far the Verde River watershed has come in advancing sensible and practical solutions and on-the-ground projects to protect the Verde River, and the level of support and awareness in the community for the importance of one of the last remaining healthy desert rivers in Arizona.
Photo Credits: Verde River, Susan Culp