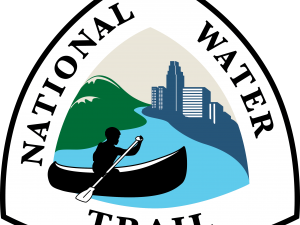 Earlier this summer, U.S. Secretary of the Interior Sally Jewell and National Park Service Director Jon Jarvis announced the designation of six local and state National Recreation Trails, adding more than 350 miles to the National Trails System, and three National Water Trails, adding more than 600 miles to the National Water Trails System.    
Similar to a hiking trail, water trails provide the opportunity to connect people to their rivers and experience first hand how much fun it is to get out and enjoy a local river or stream! The National Water Trails System brings existing and newly identified water trails together into one cohesive national network of exemplary water trails. These trails make up a network of water trails the public can explore and enjoy, as well as a community of water resource managers that can benefit from information sharing and collaboration.
Learn more about the new additional to the National Water Trails System below and plan your next river adventure on one of these great trails!
ILLINOIS and INDIANA
The 133-mile Kankakee River Water Trail traverses northwestern Indiana and northeastern Illinois in what was once one of the United States' largest wetlands. The water trail boasts ample public access sites, thousands of acres of natural areas and preserves, remarkable wildlife, overnight camping for paddlers, many historic sites, and a high-quality sports fishery.
KANSAS
The Arkansas River Water Trail provides 192 miles of scenic water trail and riverside wildlife habitat from Great Bend, Kansas to the Kansas-Oklahoma border. The trail provides recreational paddling, fishing and wildlife viewing opportunities via 22 existing access sites as it meanders through the expansive prairie and rich farmland, passing many cities and small towns along its way.
OHIO
Great Miami River Watershed Water Trail
The Great Miami River Watershed Water Trail is located in southwest Ohio and includes 291 miles of paddling, fishing, and wildlife watching opportunities on three beautiful rivers and many smaller tributaries. The major rivers include the Great Miami, Stillwater, and Mad Rivers, all of which are Ohio-designated State water trails. The trail offers a range of opportunities for human-powered and motorized boating.