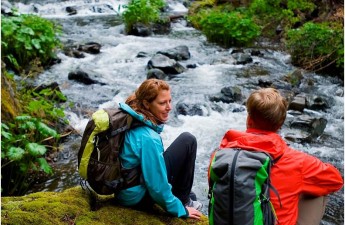 Last week Secretary of the Interior Sally Jewell designated the Bayou Teche Paddle Trail and the Huron River Water Trail as the 17th and 18th trails of the National Water Trails System! Congratulations to the partners and supporters that have worked so hard to develop, promote and sustain such amazing water trails!
The National Water Trail System is a federal program that creates a network of exemplary water trails that can be sustained by an ever-growing water trail community.  Water trails provide a connection for current and future generations to the nature, history and adventure that can be found on the water.
The Bayou Têche Paddle Trail in Louisiana wanders for 135 miles through four parishes and 13 towns along a historically and culturally significant bayou, promoting and celebrating the natural beauty and history of south Louisiana. The Huron River Water Trail is a 104-mile-long inland paddling trail allowing exploration of the river's natural and historic resources and the communities along the river in Michigan. Both of these water trails have stimulated local economies, encouraged people to enjoy the outdoors and strengthened community pride, partnerships and collaboration. The National Water Trail designation will only amplify these benefits for residents and visitors to Michigan and Louisiana.
As river advocates, we know that connecting people to their rivers through recreation is a great catalyst for protecting and restoring the health of local waterways and surrounding lands.  Are you curious to learn more about water trails, Blue Trails and the National Water Trail System? Learn more here.
Where are the great recreational trails in your community?