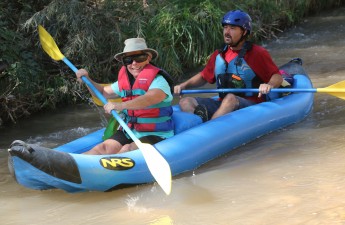 Today's post is a guest blog by Susan Culp, our Verde River Coordinator.
---
Amazing sunny weather greeted the 2015 Verde River Days celebration in Cottonwood, Arizona – the perfect backdrop to the annual event celebrating our community's love for and connection to this vital and lifegiving resource – the Verde River. What's more, the festivities have evolved into more than just an afternoon at Dead Horse Ranch State Park to celebrate the Verde River; it has become a fun-filled three days of activities that bring residents and visitors of all kinds to enjoy river recreation, education, and more.
This year's celebration was kicked off with a unique and popular "Celebrate the River" concert on Friday night, September 25th. The event included a singer/songwriter competition for the best original song about the Verde River. Sponsored by Verde River Valley Nature Organization, the event was convened in partnership with Old Town Center for the Arts, and reached new and important audiences about the important role the Verde River plays in the spirit and hearts of Verde Valley residents. The three finalists in the singer/songwriter competition were invited to play their winning songs about the Verde River at Verde River Day at Dead Horse Ranch State Park on September 26th.
The official "Verde River Day" – where admission to Dead Horse Ranch State Park in the heart of Cottonwood is waived for the public for the day – dawned a beautiful, cloudless 77 degrees when I drove to the park to set up an information table for American Rivers, one of the sponsors for the event. The event planning committee was holding its breath on the weather – the 2014 Verde River Day had been rained out by a strong autumn storm – but the weather stayed wonderful the entire day.
Nearly 2,600 people came to enjoy the Verde River and Dead Horse Ranch State Park. In addition to food and music, there were information booths and exhibits from local businesses and nonprofits, activities for children, canoe paddles, fishing, and a host of other family-friendly activities.
On Sunday the 27th, American Rivers joined VRVNO and South By Southwest Outfitters in hosting a free guided canoe paddle that put 26 river newbies in tandem kayaks and canoes on the Verde River below Owl Road at Dead Horse Ranch State Park, paddling to Mingus Avenue bridge. The community paddle has been consistently popular, and has helped to introduce countless Verde Valley residents, new to boating, to the pleasures of enjoying a paddle on the Verde River.
Verde River Days has become a tradition in the Verde Valley – marking how we value and cherish one of Arizona's last perennial free-flowing rivers. As the events expand and grow to enrich the lives of the members of the community, we continue to find new friends and new partners in making sure that the Verde River continues to flow.
Photo Credit: Susan Culp, Verde River