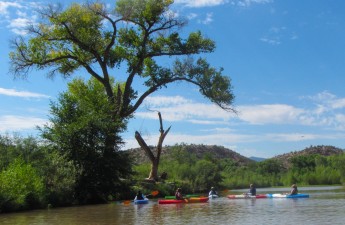 It's the best time of year again – river season! River flows are up, snow has melted, the fish are ready to bite and the sun is shining! Whether you are a kayaker, angler, birder or avid hiker or biker the Verde Valley is full of excellent recreational opportunities in and along the Verde River. With river season upon us, American Rivers and our partners throughout the Verde Valley are thrilled to release the Verde River Mobile Map!
The Verde River is an important and well-loved gem in Arizona's remarkable landscape. Beginning 100 miles north of the City of Phoenix, the Verde flows 200 miles through the rural Verde Valley communities of Clarkdale, Cottonwood, and Camp Verde, ending just north of Phoenix where it joins the Salt River. The stretch of the Verde below Camp Verde is one of the few Wild & Scenic rivers in Arizona, and is a truly spectacular wilderness landscape. The Verde River is a haven for wildlife, and is one of the last remaining free-flowing perennial rivers in the state, and is becoming increasingly known as a recreational destination for outdoor enthusiasts from across the state and around the region. Canoeing and kayaking are common activities, as are fishing, bird-watching, and hiking along the river.
The Verde River Mobile Map will provide a comprehensive guide to where residents and visitors can safely play along the Verde River. Additionally, the map highlights both the great recreational opportunities and community gems that lie along the river's banks including the historic sites like the Verde River Railroad, a number of community and state parks, and local businesses as well as riverside hiking and biking trails.
We would like to thank all of our partners who worked hand-in-glove to put this map together – including the U.S. Forest Service, Arizona State Parks, Friends of the Verde River Greenway, the Verde River Valley Nature Organization, Verde River Institute, and the communities of the Verde Valley, including the Town of Camp Verde, City of Cottonwood, and Town of Clarkdale – It was truly a team effort!
To learn more about the Verde River Mobile Map visit: www.AmericanRivers.org/Verde. See you on the River!