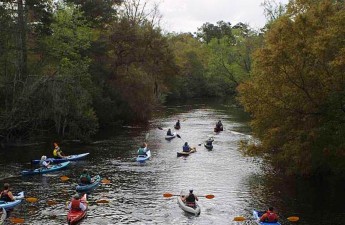 Did you miss our webinar last week on Finding Creative Funding Sources for Conservation and Recreation? Watch it here today! This presentation discussed different opportunities for finding funding from private and public grants to more innovative partnerships and events. Laila Johnston of American Rivers lead the 30 minute webinar presentation on ways to think creatively about funding recreation and conservation work in your community. Learn more about creative funding solutions  from local groups across the country – including what has worked and what hasn't.
For more information on creative funding sources, visit:
Blue Trails Guide Funding Database
Simple Steps for Building a Successful Sponsorship Program
American Rivers' Connecting Communities to Rivers Grant Program
We want to learn from you! If you have a creative fundraising success story or lessons learned, please share it here.  Please join us next month, on December 15th at 1 pm ET, for a webinar making the economic argument for water trails. Sign up today!
Photo Credit: South Carolina Dept. of Natural Resources, Ashley River