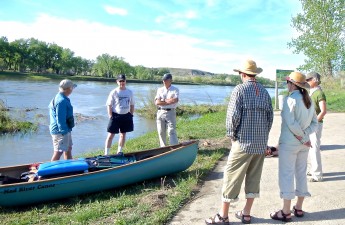 Join the National Park Service to learn how to secure help for your community project. The National Park Service's Rivers, Trails and Conservation Assistance Program (RTCA) works with local leaders to build partnerships and engage their communities in outdoor recreation and natural resource conservation projects.
Tune in Wednesday, April 26 at 10:00 a.m. MDT/11:00 a.m. CDT to learn who and what is eligible for NPS assistance, how the RTCA program can support your vision, the ins and outs of the application process, and what makes a competitive application.
Register here today! 
For More Information on Applying for National Park Service Assistance
Application materials and guidelines are available on our website.  Applications are due June 30. We encourage potential applicants to contact their nearest RTCA staff member to discuss their interest by May 30.
Photo Credit: Mike Fiebig, Boat ramp on the Missouri River, MT