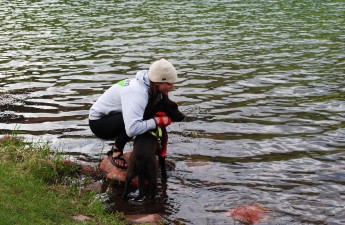 Often seen as the unofficial end to summer, August is the perfect time to end the warm season with a few final adventures! As an adventurer, perhaps you crave the rush to discover one last new spot, or maybe like me, you head to your favorite destination one last time. Whatever your cup of tea might be, end of summer adventures are a great way to cap off a fun filled season!
This summer I've been spending lots of time in and around some of my favorite spots with my four legged companion! While new adventures are always a treat, my favorite experiences often come from visiting the places I know all too well.  Familiar trails,  local rivers and streams and well known lakes call my name every summer. I love rediscovering my favorite places in a new way – from rafting and swimming to hiking, fishing and biking – there is always a new way to explore. I found all sorts of new adventures in and along some of my favorite and most important places.  I had the opportunity to cool off in a swimming hole along the Verde River, caught trout in upper Rio Grande, and spent countless hours wandering with my dog along our favorite hiking trails, through lakes and across streams.
What big plans do you have in store for August? Share your story (and your photos!) with us here or on the community forum and see your adventure featured in our Summer Adventure post!
Photo Credit: Peter Hartman, Sylvan Lake