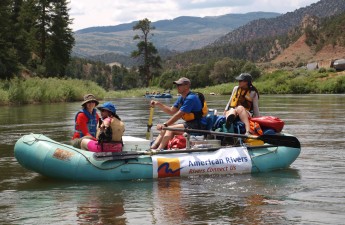 River fun in Eagle County has historically been concentrated along the upper reaches of the Colorado River, leaving about 40 miles of river lonely and underutilized. However, in 2011, Eagle County Open Space (ECOS) and several partners began a concerted effort to protect the river corridor and improve access along some of the quieter and less visited stretches of the Colorado River through the Colorado River Initiative.
The Colorado River Initiative connects river recreationalists to some of the more off-the-beaten-path sections of the Upper Colorado by developing new
river access points
and connecting existing public lands through land acquisition and conservation easements. Since 2011, six new parcels have been acquired in underutilized reaches of the Upper Colorado as a part of this effort.
Eagle County is fortunate to have two beautiful rivers flowing through its boundaries, which are assets for recreation, tourism and community health. The Eagle River Blue Trail, comprised of the Eagle and Upper Colorado Rivers is building on attitudes favoring conservation and protection of these natural community assets. The Blue Trail works to connect a number of existing initiatives on both the Eagle and the Upper Colorado together to form a strong, connected river corridor system for locals and tourists to enjoy.
The keys to the success of the Colorado River Initiative are an organized and focused Open Space Program and strong partnerships with local entities.  Thank you to Eagle County Open Space, Eagle Valley Land Trust, Eagle River Watershed Council, Bureau of Land Management, The Conservation Fund, Great Outdoors Colorado, and Colorado Parks and Wildlife for working seamlessly to protect the river corridors that help make Eagle County a special place to live and play.  American Rivers is excited to be a part of this great group as we embark together on the Eagle River Blue Trail.
Would you like to learn more about the great river access available to us through Eagle County Open Space?  Check out the Colorado River Recreation Opportunities Map or the Eagle County Open Space Website for more information.  How have you been enjoying the new recreation opportunities along the Eagle and upper Colorado Rivers? Let us know in the community forum!