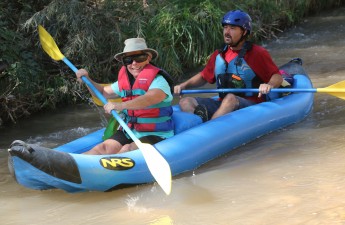 Today's post is by guest blogger Susan Culp, a consultant serving as Verde River Project Coordinator for American Rivers.
---
Calling all American Rivers members: the Verde River Runoff, an annual kayak and canoe race held in Camp Verde, Arizona, is almost around the corner! This year's race is scheduled for March 19th, and with the significant rain and snowfall that central and northern Arizona has been experiencing during this El Nino year, Verde River flows promise to be at an exciting and challenging level.
Registration for the race is open, so don't wait!
The 2016 race boasts some new and exciting categories as well. There will be a Stand Up Paddle division, and this will be the first year that a 5-mile race will be offered to participants. The regular 10-mile race will begin at White Bridge River Access Point in Camp Verde, and end at Beasley Flats River Access Point. The 5-mile version of the race will put-in at Clear Creek River Access Point, and head down to Beasley Flat. Winners of the race categories will receive REI gift certificates and a commemorative medal.
If you aren't interested in participating in the race itself, there are a number of volunteer opportunities working with the Verde River Runoff organizers. We need people to help work at the registration table, work at the snack table at the finish line, and to help in hauling the boats down to the launch points for the race, and hauling them back up to load onto vehicles at the finish line.
Don't miss this exciting opportunity to paddle with your fellow river runners on one of Arizona's most beautiful and precious free-flowing rivers!
Photo Credit: Verde River, AZ – Susan Culp