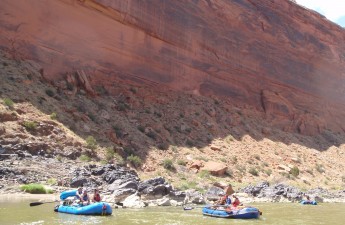 How do you know its spring in Utah? The license plates turn green, as Coloradans flee to the desert in search of sunshine and warmth. I was lucky to get out of town for a few days and enjoy a float through the Westwater Canyon on the Colorado River with some friends from Beaver Creek Ski Patrol and Lakota Guides.
Rafting is my favorite way to enjoy the river and its even better with friends who recreate responsibly and have the right gear to spend the night in this pristine canyon.
May is called mud season for a reason here in the high Rockies. Keep in mind, all of this rain and snow we are getting will be water in the Eagle River Blue Trail soon enough. This is a great opportunity to take advantage of this down time to read up on our awesome river resources on the Eagle River Watershed Council website and plan a few river trips for this summer.
Some of my favorite stretches on the upper Colorado River include both day and overnight trips. If you are looking for a fun and safe day float, put in at Rancho Del Rio and take out at State Bridge. This 4 mile stretch provides fun for the whole family and is a great way to connect with other users along the river. If you have more time to be outside, enjoy a night under the stars and take out at Catamount. Rafting the upper Colorado and other rivers not only connects you to the river and the amazing resource that surrounds you, but it also brings you closer to the friends and family rafting alongside of you.
Summer is just around the corner! What do you do to plan a river trip?