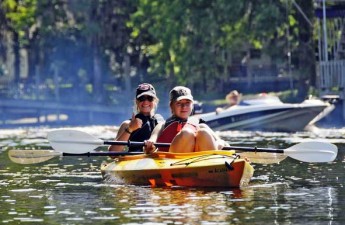 Yes! Whether you call it a water trail, a paddle trail, or something else, the Blue Trails Guide has tools for you, including:
Step-by-step guide for improving recreational opportunities and conserving your river and surrounding lands
Easy-to-search federal funding database for your projects
Community Forum where folks like you can connect and share ideas
New mobile sites that help you explore and have your own river adventures
And more!
"Blue Trail" is a term that American Rivers uses to describe our work. But we encourage you to choose a name that best suits your needs. More importantly, we encourage anyone who is interested in improving recreational access to look for opportunities to protect their rivers and riverside lands as part of their efforts.
Join us for a 30-minute webinar on October 14th at 1 pm ET to learn more about the tools and resources that can help you!