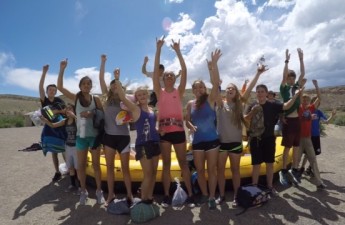 Today's post is a guest blog co-authored by Dan Omasta, Director of River Restoration Adventures for Tomorrow, and Neal Schwieterman, who resides in Paonia, CO with his wife and daughter.  He is a retired police officer and recently retired as Mayor of Paonia. He continues to inspire youth through kayaking and is looking to start his 3rd career. River Restoration Adventures for Tomorrow is a grant recipient of the Connecting Communities to Rivers Grant Program. 
---
"How many of you have been rafting before?" was the question asked to the group of middle and high-school students eagerly standing along the banks of the lower Gunnison River just outside of Delta, Colorado.  Only a few of the twenty-two kids nervously raised their hands.
That spring river trip was dedicated to getting local youth out on the water as part of an effort by American Rivers and River Restoration Adventures for Tomorrow (RRAFT) to connect communities to their watersheds.  Not only did these students get a chance to float the muddy waters of the Gunnison for the first time, they also helped to map stands of invasive Russian Olive trees as part of an ongoing BLM initiative to improve the riparian ecosystem in that area. By providing youth with opportunities to explore and contribute to their local rivers, RRAFT and American Rivers aim to foster life-long watershed stewards.
As part of that trip, RRAFT also invited local outdoor industry professionals to work alongside the youth participants.  This collaboration was intended to inspire future careers in the outdoor field and motivate the kids to dream big!  There were several great professionals that joined our group, one of them being Neal Schwieterman, a former police officer dedicated to empowering youth through kayaking.
Neal moved from Ohio to Colorado in 1992 partly for the skiing and partly to get out of the canoe and into a kayak. During our trip, he explained that:
"I found a home in Golden, Colorado, where the local kayak club was in need of boat storage. I volunteered to lend a hand and got my first taste of how rivers and kayaking can impact our lives.  As a police officer with the Jefferson County Sheriff's Department, I had seen my fair share of tragedy and struggles within the community – including the Columbine High School Shooting in 1999. Rivers have always been a space for me to find peace of mind and get in touch with the soul. They are a place to relax and heal. The Columbine tragedy changed the perspective I have on my life, reminded me how important family and community are, and made me recognize that I needed to do something to make sure that events like Columbine don't happen again."
Shortly after the Columbine High School shooting, Neal and his family moved to the Western Slope of Colorado where he joined the Paonia Police Department.
"I realized that I REALLY NEEDED to do all I could to make sure that shootings NEVER happened HERE.  With my experience at the Kayak Club in Golden, I started the Paonia Kayak Club. We were a rag tag group in old school long boats and shabby wetsuits, but we were on the river. The High School had three days where we were able to get kids on the water at the end of the school year. After one of our spring break trips down the Colorado through Ruby-Horsethief, I asked one of the students if this was worthwhile; Katie (a former student of mine) answered, "YES! Because now I know how to do something the football players don't."
Her response highlighted the positive impact a river can have on a kid's outlook.  Connecting youth to their local rivers empowers them to move beyond their day-to-day perceptions of life in the classroom and enables them to grow through the unique challenges that our waterways provide.  These kids are learning about safety, teamwork, and most importantly – that they can do anything they put their mind to. The club continues to thrive and to-date has taught almost 150 kids to kayak.  The new boaters have gravitated to younger ages, beyond just the high school students. Many that start boating may not move beyond Class II, but several have become solid Class IV boaters. One in particular, Mason, started as 10-year-old and continues to be Neal's best paddling partner even as he enters his senior year at Montana State. "We have identical safety expectations and similar abilities, albeit at 21, his skills are rising and at 54, mine are likely not" Neal jokes. Kayaking has shown these students that they are capable of whatever they put their mind to; as one student exclaimed, "kayaking taught me I could do ANYTHING!"
When RRAFT took the high school kids out on the Gunnison River in May, outdoor professionals, including Neal, were a part of this transformation. Schwieterman sums it up perfectly when he explained:
"I teach kids to kayak and appreciate the river, but what they learn is self-confidence. That confidence is what I hope will continue to guide kids away from struggles and triggers that can result in the ever-too-common bullying and tragedies we see today.  It is also something that youth will take with them for the rest of their life."
Photo Credit: River Restoration Adventures for Tomorrow, Gunnison River, Colorado