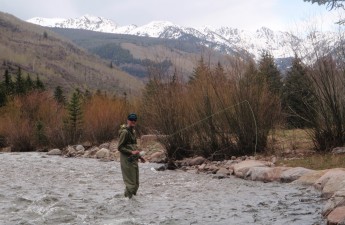 My brother Drew is learning to fly fish as part of his recovery from a back injury he sustained skiing this winter. A titanium rod in his back prohibits him from many of the activities he enjoyed before his accident, but a fly rod is something he can handle. Plus, it is a great way to enjoy your local river and get some exercise outside. For Drew, fly fishing is a low impact, high enjoyment recreation activity – "I enjoy fly fishing because I love getting outside and standing in the river, enjoying the fresh air and beautiful scenery. The thrill of the catch is an added bonus."
As with many new activities, learning something new can be daunting. Fly fishing requires concentration and technique to coax fish to your fly and get them in your net. Drew has been borrowing gear, purchasing used gear and reading fly fishing books to get background knowledge he needs to understand the sport. Although fly fishing is an individual activity, much of the fun is learning from others. He has gone fishing with some buddies and hung out in the local fly shops to learn about good spots, and everyone has been extremely helpful and welcoming to this often very solitary pastime.
If you, like Drew, are new to fly fishing or would like to learn more about the science behind fly fishing and how to tie your own flies, please join us at Walking Mountains Science Center for the Science Behind Fly Tying on Wednesday, May 13 at 6:30. American Rivers will be there to talk about where to fish in Eagle County, including Gore Creek, Eagle River and the Upper Colorado River. Eagle Valley Trout Unlimited will be there to tell you about the fish themselves and guide you through the steps to tie your own fly to take home.