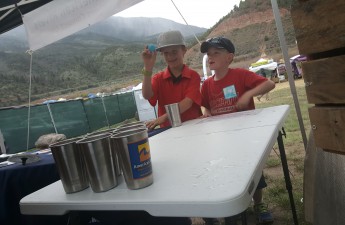 Folks in Colorado have been celebrating an especially rainy spring. Over Memorial Day, the Eagle Blue Trail was fortunate to be one of the beneficiaries of Campout for the Cause with Bonfire Entertainment. Participants enjoyed concerts, yoga, floating down the Colorado River, fishing and lots of rain. American Rivers® was there promoting the Eagle Blue Trail and playing "Klean Kanteen® Water Pong Trivia" with participants.
Each participant was provided with a Klean Kanteen® Steel Pint to help reduce waste from plastic cups. Klean Kanteen® provided American Rivers® with a set of Steel Pints to play "Water Pong" and several Klean Kanteen® water bottles as raffle prizes for our trivia game. We really enjoyed playing "Water Pong" and talking about river and water trivia with people at Campout for the Cause. Raffle winners were really excited about their new Klean Kanteen® water bottles! We are so grateful for our national and local partners who make our work possible. Thank you Klean Kanteen® and Bonfire Entertainment® for working and playing with us!!
Campout for the Cause is an annual event raising awareness and funds for local and international issues and projects. Join us at the American Rivers® tent to try your hand at "Water Pong" and answer a river trivia questions for a chance to win some awesome prizes. We hope to see you at Campout for the Cause next year!
Photo Courtesy of Jessica Foulis